What to Do in Opatija in The Off-Season:
Feel the Magic of the Queen of The Adriatic
Are you ready to experience the captivating beauty of Opatija during the enchanting autumn and winter months? 
While this Croatian coastal town is known for its summer allure, it's equally magical when the weather turns cooler. The serene ambience, cultural experiences, and unique activities make Opatija a perfect off-season destination. 
This enchanting coastal town nestled along the Adriatic Sea is a hidden gem that offers a blend of natural beauty, rich history, and cultural experiences. From scenic strolls along the Lungomare Promenade to savouring mouthwatering seafood dishes, Opatija has something for everyone.
Here is our favourite list of the 10 best things to do in Opatija during the autumn and winter. Start creating unforgettable memories on the Istrian Peninsula.
What to Do in Opatija During Autumn and Winter
Opatija takes on a different kind of charm during the autumn and winter months. 
Once a renowned spa town during the Hapsburg reign, Opatija or as it was formerly known, Abbazia, is often referred to as the "Pearl of the Adriatic." In autumn and winter, you can embrace the tranquillity, the cultural richness, and the unique activities that make this off-season period truly special. 
Here's what to do in Opatija when the crowds have dispersed.
1. Enjoy the Tranquillity of the Lungomare or Franz-Josef Promenade
Start your journey here 

Take in the poetic atmosphere

Stroll in peaceful surroundings

Take in breathtaking coastal views

Enjoy the scents of Mediterranean flora

Experience the serene beauty of the Lungomare Promenade
Your adventure in Opatija begins with a leisurely stroll along the Lungomare Promenade, one of the most scenic coastal paths in Croatia. 
The promenade stretches 10 kilometres, offering captivating views of the Adriatic Sea and lush greenery. The salty breeze and the vibrant colours of the Mediterranean flora will make you feel like you've stepped into a postcard. 
The Lungomare Promenade, famous for its stunning coastal views, offers a different experience in the off-season. The peaceful atmosphere and the gentle sound of waves crashing on the shore create a poetic ambience. Take strolls, breathe in the crisp sea air, and enjoy the solitude of the promenade.
Take your time to embrace the tranquillity of the sea, and don't forget your camera to capture the stunning vistas.
You can download a walking map with the history and stories of the idyllic seafront promenade dating back to the era of Emperor Franz Joseph here.
2. Explore 
Angiolina Park
 and Villa Angiolina's Winter Magic
Enjoy the holiday decorations

Explore the lush Angiolina Park

Discover the park's winter charm

Discover exotic plant species in the park

Admire the historical beauty of Villa Angiolina

Marvel at the historical beauty of Villa Angiolina
Angiolina Park, a verdant oasis in the heart of Opatija, invites you to explore its enchanting landscapes. 
Wander through this meticulously landscaped park and enjoy the autumn shades of ancient chestnut and exotic trees. In autumn and winter, Angiolina Park takes on a different appeal, with the changing colours of leaves and the festive holiday decorations. A highlight of the park is Villa Angiolina, an architectural gem that once hosted European nobility. The villa is a magically picturesque sight during the holiday season.
The Croatian Museum of Tourism inside the villa showcases unique exhibits. This season offers a chance to witness Opatija's cultural side with a touch of holiday spirit.
3. Experience the Authentic Charm of Local Cafés and Restaurants
Dine in cosy local eateries

Enjoy the charming ambience

Savour warm and hearty Croatian dishes
Opatija's local restaurants and cafés are even cosier during the off-season. Enjoy hearty Croatian dishes like "gregada" (a traditional fisherman's stew) and sip on mulled wine while enjoying the charming ambience. The slower pace and warm hospitality of the locals make dining experiences even more special.
No visit to Opatija would be complete without a leisurely visit to one of the many cafés. You can still experience the authentic spirit of Viennese Coffee house culture in Opatija. Our favourites are Café Wagner and Grand Café, the oldest Café in the city. Coffee house culture was once a coveted part of daily life on the Istrian peninsula. Its roots lie in the customs and traditions of the Habsburg era, when the Istrian coast was a beloved holiday spot of the Austro-Hungarian nobility.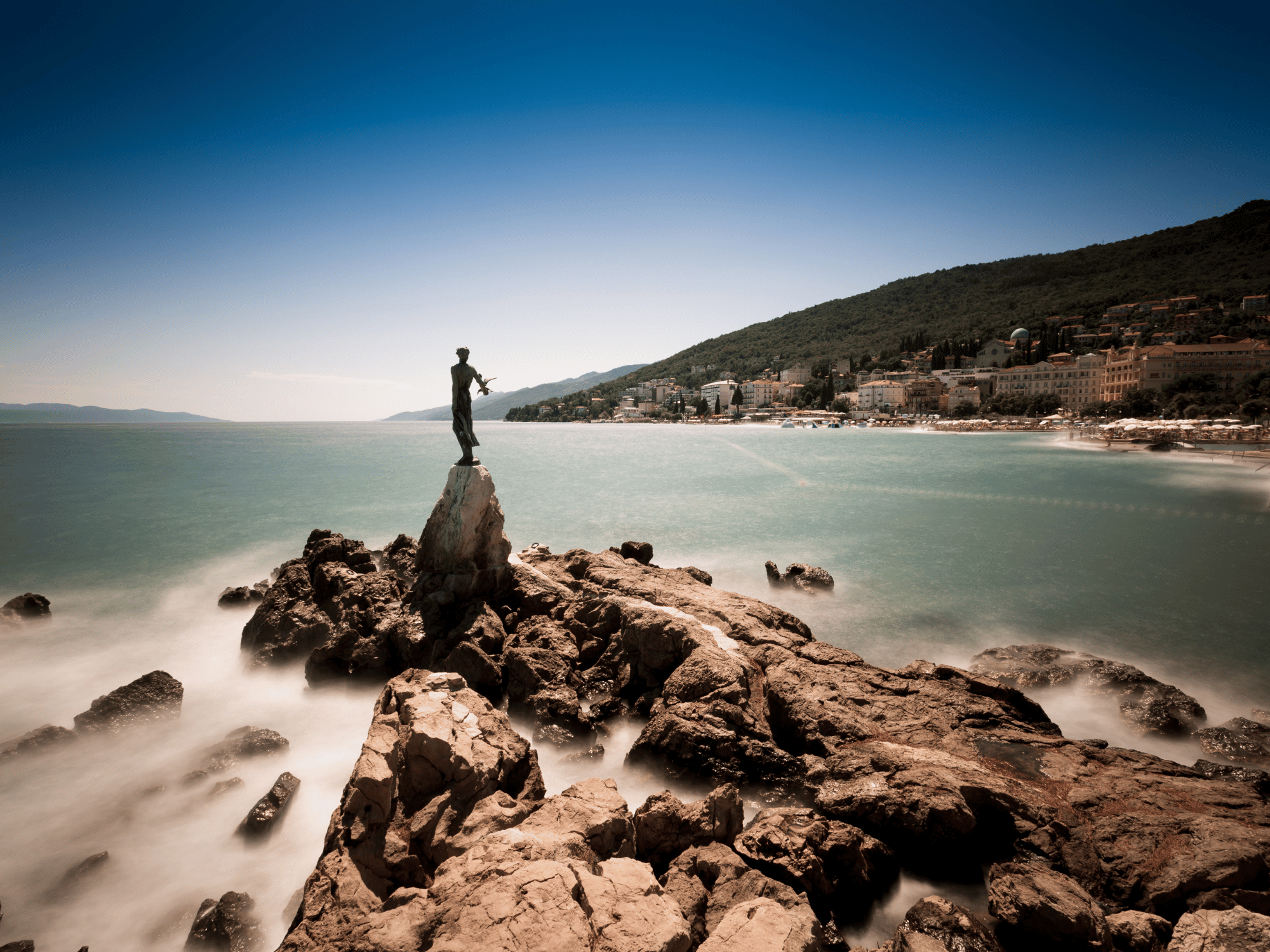 4. Visit the Maiden with the Seagull Statue
Capture stunning photos

Relish the statue's serene beauty

Enjoy panoramic winter views of the Kvarner Gulf

Admire the iconic Maiden with the Seagull in a tranquil setting
One of the most iconic landmarks in Opatija is the Maiden with the Seagull statue, symbolizing the town's beauty and charm. 
Perched on a rocky outcrop, the statue exudes a serene, almost meditative sentiment during autumn and winter. Perched on the rocky outcrop, it offers unique panoramic views of the Kvarner Gulf, making it the ideal spot for capturing the statue's beauty amid the peaceful surroundings.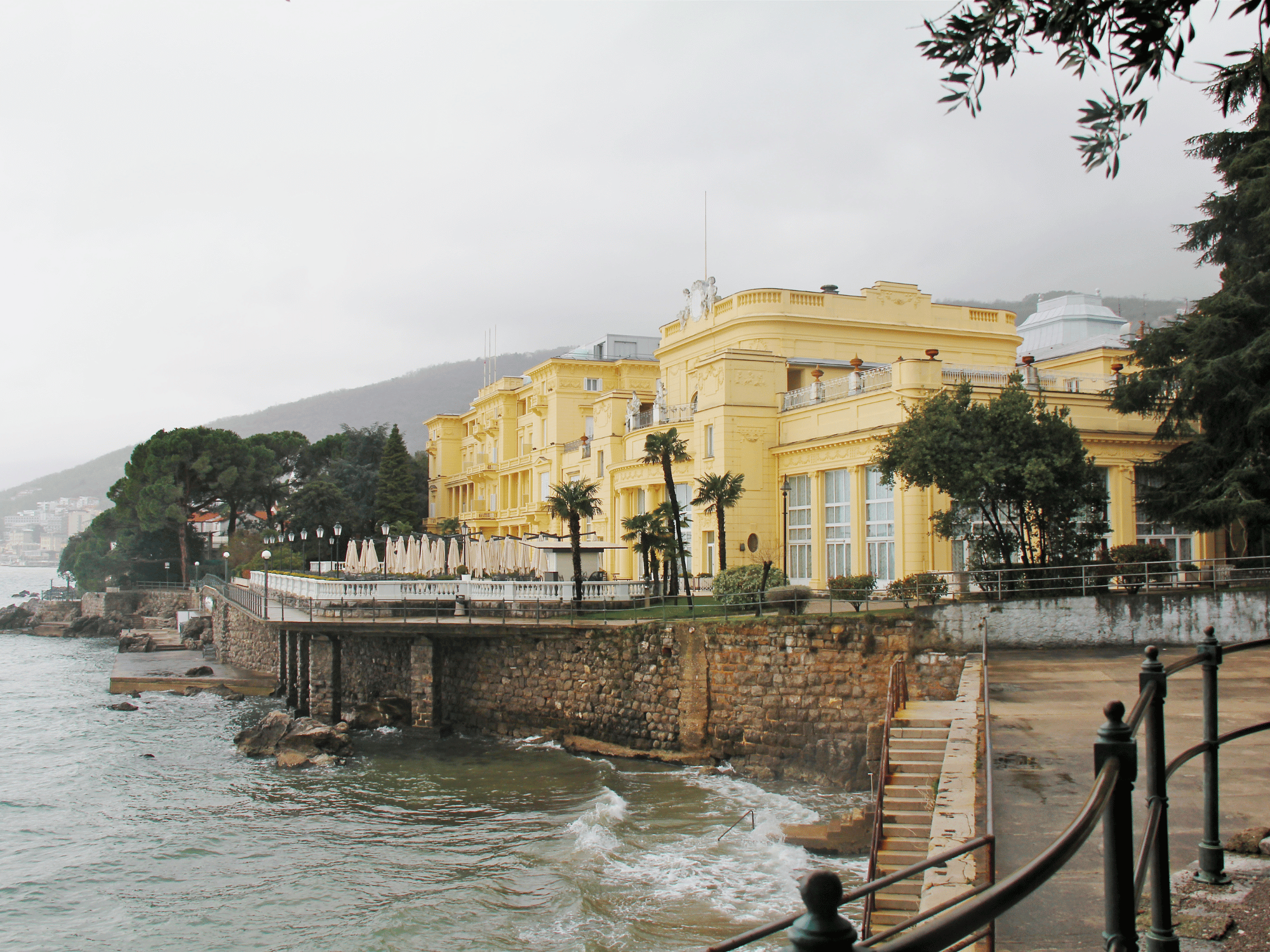 5. Explore Indoor Attractions
Visit museums and art galleries

Discover the rich history of the region

Stay warm while immersing in cultural experiences
Autumn and winter are perfect for exploring Opatija's indoor attractions. Museums, art galleries, and historical sites offer a rich dose of cultural experiences. Travel back in time to touch the region's history and get to know Opatija from a different perspective. Experience Opatija when it was called Abbazia, the playground of the rich and famous during Habsburg rule.
Here is a list of Museums.
Learn about Opatija's history in 

The Swiss House

Visit one of the many Ateliers and Galleries 

here
6. Relax and Unwind in Opatija's Spas
Indulge in self-care

Relax with wellness and spa treatments

Escape the winter chill in warm spa environments
Opatija is renowned for its wellness and spa offerings. 
Pamper yourself with rejuvenating treatments in world-class spas that overlook the sea. Immerse yourself in relaxation with rejuvenating treatments in warm and tranquil spa settings. The soothing therapies professional therapists provide will leave you feeling refreshed and ready to embrace the season.
Opatija's wellness and spa offerings are a haven during the colder months. 
Here are a few favourites:
7. Discover Off-Season Events and Festivals
Enjoy cultural celebrations

Immerse yourself in local traditions

Embrace local traditions and festivities

Participate in unique off-season events
Opatija continues to host special off-season events and festivals, offering unique insights into local traditions and culture.
Opatija hosts a variety of cultural events and festivals throughout the year. From music festivals and art exhibitions to traditional celebrations, you can immerse yourself in the local culture. Whether it's a winter celebration or an artistic event, these occasions are a fantastic way to engage with the local community.
Did you know that chocolate is written with a capital C in Opatija? 
The brands 

Jadran 

and 

Slon 

(which means elephant in Croatian) were the first chocolate and cocoa factory in Croatia. This factory was first mentioned in 1896. They once supplied hotels and shops in Rijeka and Opatija with chocolate bars, candies, cocoa powder, cakes and other sweet delicacies of the highest quality.

Today, there is a wonderful pastry shop and cafè in Rijeka by the same name, Slon. It is worth taking a day trip to Rijeka to visit the cathedral of St. Vitus and indulge in their Café's delicacies.
Pastry shop "Slon by Moreno Debartoli" was opened in December 2019 in the heart of the Old Town of Rijeka, next to the Cathedral of St. Vitus. Inspired by the first chocolate factory in the Balkans, our mission is to return the old splendour of "Slon" to Rijeka and offer the highest quality products for which it had a good reputation. 
Here is their Instagram feed to make your mouth water.
Here are a few events planned for this year.
The Concert "Pure Chocolate" is a holistic festival of events revolving around what else? Chocolate. It is a feast that encompasses all the senses. Read about it 

here

.

Opatija's 

17th Chocolate Festival

 takes place this year from 10.-12.11.2023.

Experience an unforgettable Christmas by the sea. 

Opatija Advent

 runs from 01.12.2023.-07.01.2024.
Be sure to check the event calendar to see if any exciting events align with your visit.
8. Indulge in Seafood Delights
Savour fresh Adriatic seafood

Dine at local seafood restaurants

Try local specialities like black risotto and scampi buzara
Your visit to Opatija wouldn't be complete without savouring the culinary delights of the Adriatic. 
Opatija is famous for its seafood cuisine, and you'll find an abundance of seafood restaurants along the promenade. Try local specialities like black risotto and scampi buzara, and pair your meal with a glass or two of delicious Istrian wine. The freshness and flavours of Adriatic seafood will leave your taste buds dancing.
Johnson
One of my absolute favourite places for seafood in Opatija is Johnson. The restaurant, perched atop a hill, serves the freshest seafood from the Kvarner Bay. On our last visit, we feasted on Bonito sashimi caught in the morning and served in the evening. 
It was as close as you come to Mediterranean heaven.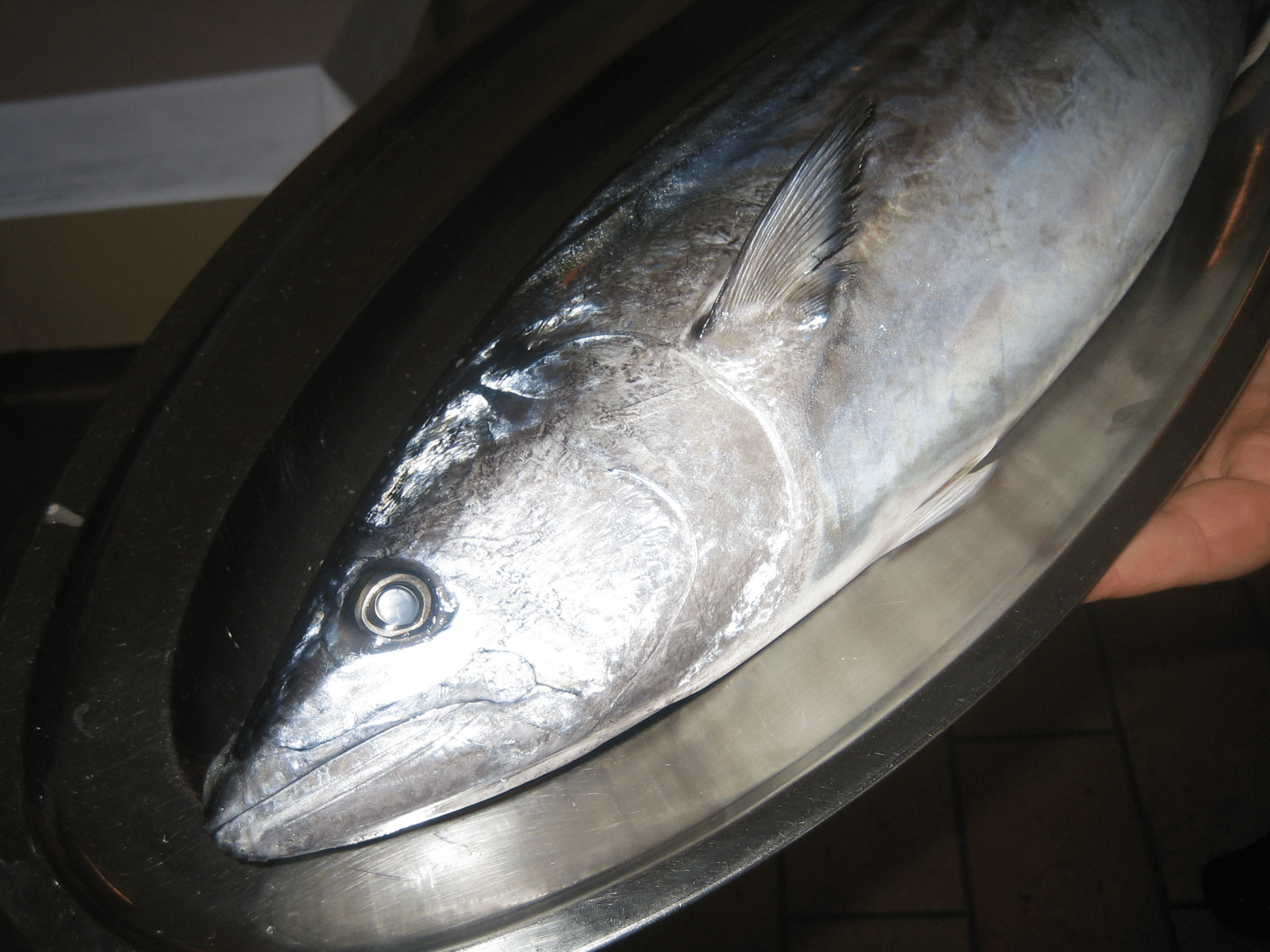 There is a backstory to Johnson. My husband and I were surprised at the name. After all, Johnson is hardly a Croatian name, as far as names go. It turns out that the proprietor's father built up a reputation for himself during the communist regime. If you needed anything that you could not find at a local store, his father could get it. At the time, the US President was Linden B. Johnson. So they dubbed him Johnson for his tenacity in acquiring anything and almost everything. The name stuck.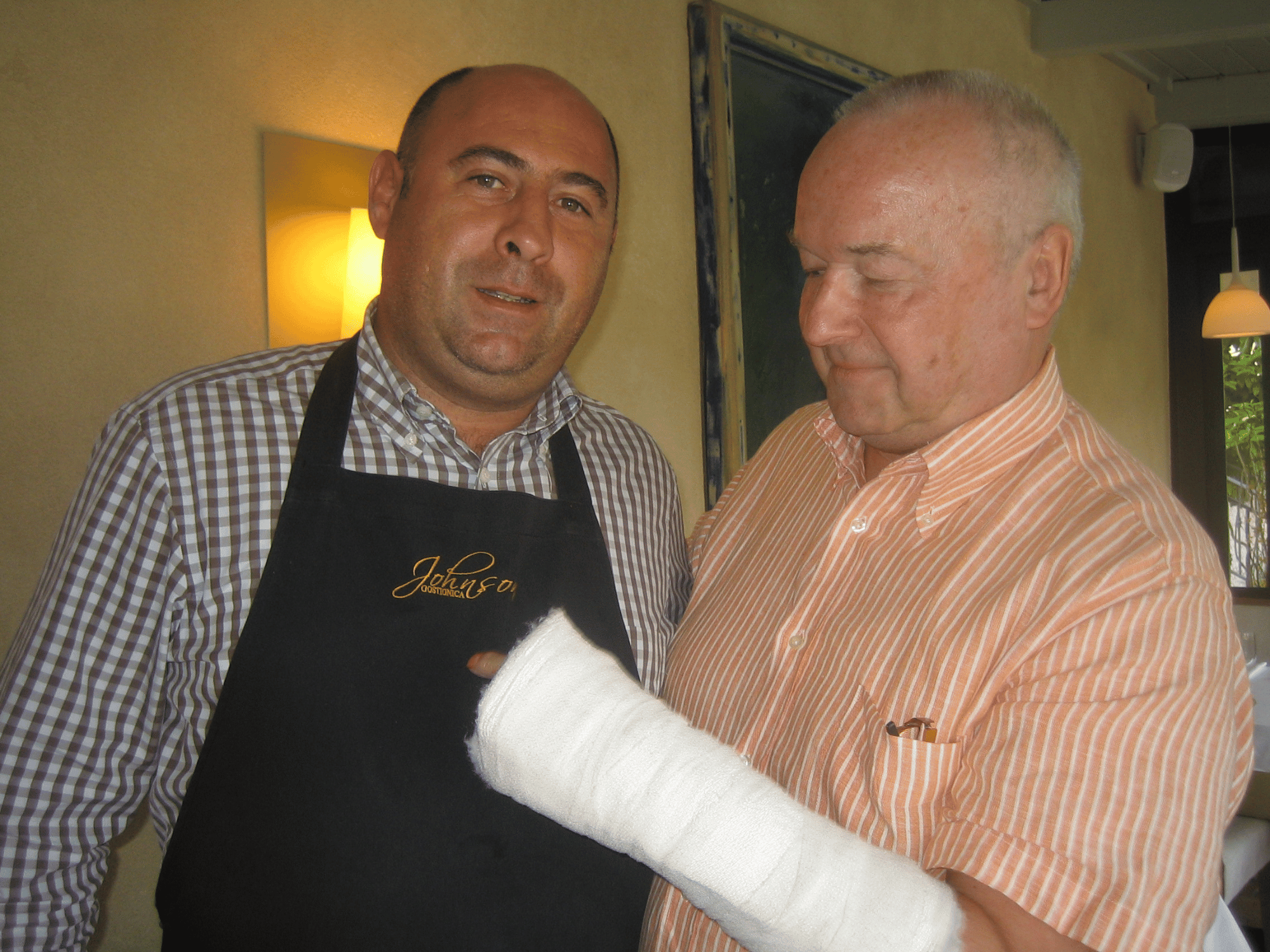 9. Discover the Croatian Walk of Fame
Stroll along the Walk of Fame

Celebrate prominent Croatian figures

Learn about Croatian culture and history
The Croatian Walk of Fame in Opatija pays tribute to outstanding Croatian figures who have significantly contributed to arts, culture, and science. 
As you stroll along this unique walkway, you'll encounter stars dedicated to renowned individuals. It's a great way to immerse yourself in Croatian culture and history.
Here are more details on the Opatija Walk of Fame Project and a list of famous names along the walk.
10. Take a Day Trip to Nearby Islands
Explore islands like Krk and Cres

Appreciate the scenic beauty of the Adriatic

Experience island life in a quieter atmosphere
While Opatija is a serene retreat, the off-season is also an excellent time to embark on day trips to nearby islands like Krk and Cres. 
With fewer tourists, you can explore these islands in a more intimate and tranquil setting, appreciating their natural beauty and local culture.
Connect with nature in its purest form

Enjoy serene trails and winter panoramas

Hike in Učka Nature Park's autumn and winter landscapes
Just a short drive from Opatija, Učka Nature Park is a paradise for nature enthusiasts and hikers. 
Explore the park's network of hiking trails that lead to breathtaking viewpoints and offer a close encounter with the pristine nature of the region. The park offers stunning landscapes bursting with autumnal foliage during fall. Hike on serene trails and embrace the serenity of nature in its purest form. 
The views from Učka's peaks are simply spectacular during this season.
Where the flair of bygone times gently caresses the sea. The vastness of the sea stretches into eternity.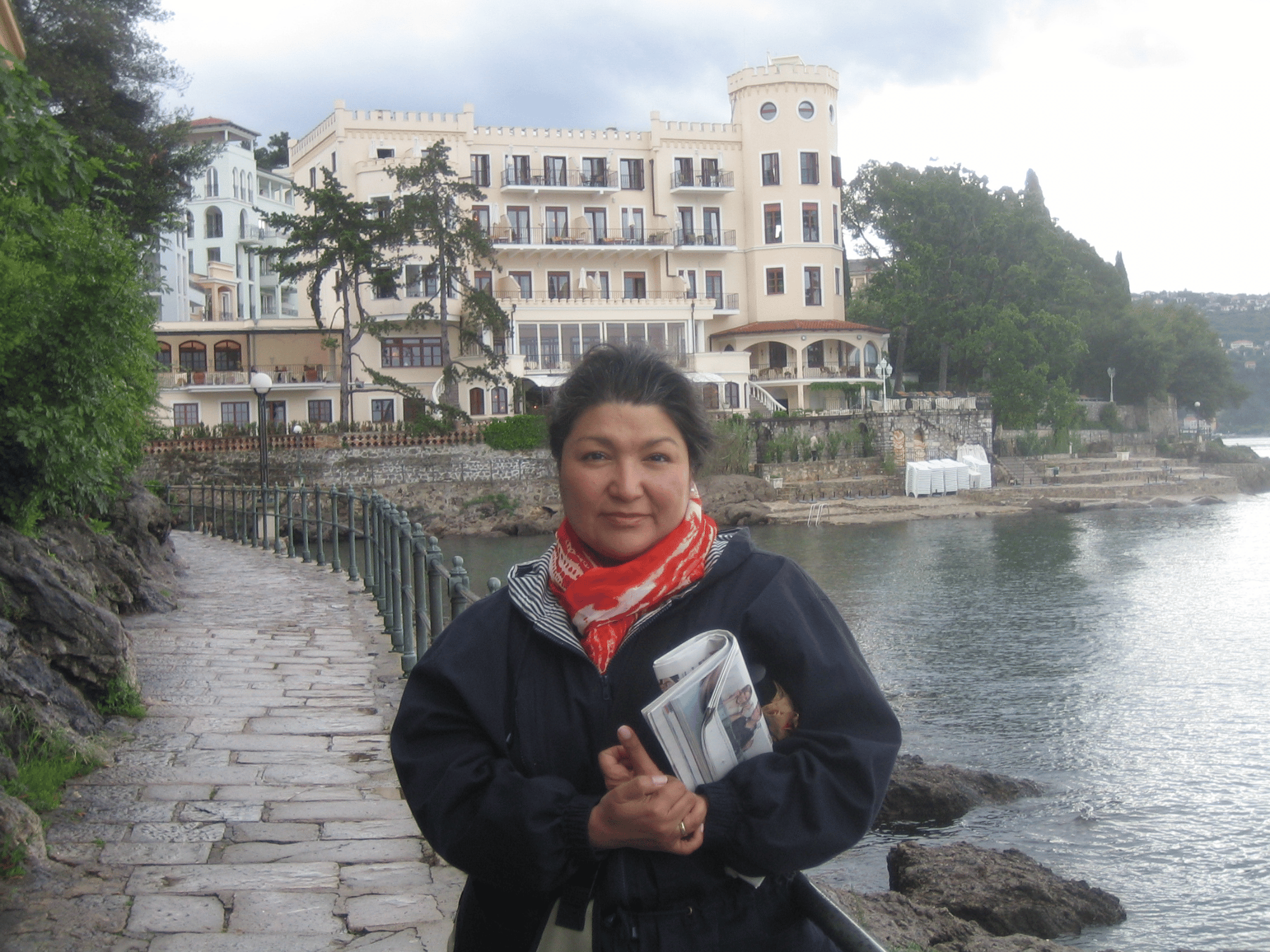 12. Experience Villa Neptun's Revival at
Hotel Miramar
Discover the history of Villa Neptun

Witness its architectural and aesthetic transformation

Stay in a revitalized luxury hotel, Miramar
Villa Neptun, formerly known as Villa Meyne, has a fascinating history. 
It was once a guest pension and a remarkable architectural creation. Today, after an extensive restoration, Villa Neptun has been revived to its original charm. Experience this luxury hotel's picturesque features, including decorative battlements and an elegant ambience.
What to do in Opatija to Experience The Autumn and Winter Magic
Opatija's autumn and winter seasons offer a restful escape from the crowds, a chance to embrace local culture, and a journey through history. 
With its tranquil promenades, cultural richness, and revitalized historical landmarks, Opatija is a hidden gem during the off-season. Visit this Croatian coastal town and experience the magic of autumn and winter on the Adriatic.
Its blend of natural beauty, cultural richness, and culinary delights offers a diverse range of experiences for travellers. Opatija will captivate your senses whether you're 
an outdoor enthusiast

a history buff

or a food lover.
Plan your visit to this Croatian seaside jewel and discover what makes it a true traveler's paradise. Get more detailed information here.
Here are some helpful links for more detailed information about what to do in Opatija.
Share Your Opatija Moments with Us!
Have you recently visited Opatija during the enchanting autumn and winter seasons? Or perhaps you're planning a trip to this hidden gem on the Adriatic? We're eager to hear your stories, experiences, and tips!
Join our vibrant community of Opatija enthusiasts by sharing your Opatija moments. Let's connect through the magic of travel and exploration.
Don't miss out on the latest updates, insider insights, and captivating stories about Opatija and other exciting destinations. Subscribe to our newsletter, The Multicultural, today, and embark on a journey of discovery with us!