On the day after Fat Tuesday or Mardi Gras, Catholics worldwide begin the solemn season of Lent. This is a time of sacrifice and reflection when rich and indulgent foods are avoided in favor of simple, nourishing meals. In Austria, this transition is marked by a traditional dish called Heringsschmaus or Lenten pickled herring.
Heringsschmaus is a beloved meal that is typically eaten on Ash Wednesday, the first day of Lent. It is particularly popular in parts of Austria with a strong Catholic heritage, such as Upper Austria and the Danube River Valley. The dish is a simple, satisfying way to mark the start of the Lenten season and embrace the spirit of sacrifice and self-reflection. At least, that is how it started out. The tradition of eating pickled herring or a Heringsschmaus has mutated into a sumptuous meal, ranging from a few dishes to a full-blown-out buffet. In typical Austrian fashion, food-loving Viennese managed to extend the pleasures of Carnival one more day by turning a relatively simple dish into a lavish feast.
The History of Heringsschmaus
Eating Lenten pickled herring on Ash Wednesday is a long-standing tradition in Austria and many other countries with a Christian heritage. This tradition dates back centuries and has its roots in the religious practices of the Catholic Church.
In the Catholic Church, Ash Wednesday marks the beginning of the season of Lent, a period of fasting and penitence that lasts for 40 days leading up to Easter. During Lent, Catholics are expected to abstain from eating meat on Fridays and reduce their overall food intake. However, fish is allowed on Fridays, so it has become popular for meals during this period.
Pickled herring became a popular choice for Ash Wednesday meals in Austria and other parts of Europe because it could be easily preserved and stored for long periods of time. Before the days of refrigeration, preserving food was a vital part of daily life, and pickling was one of the most common methods of preservation. By pickling herring in vinegar, salt, and other seasonings, people could enjoy this delicious and nutritious fish even when fresh fish was not available.
Over time, the tradition of eating Lenten pickled herring on Ash Wednesday became a cultural phenomenon in Austria, and the dish is now an integral part of the country's culinary heritage. Many Austrian restaurants and food shops offer special Lenten menus featuring pickled herring, and it is a dish that people of all ages and backgrounds enjoy.
The Heringsschmaus Meal
The meal typically consists of several types of pickled herring, such as Atlantic, soused, or rollmops. These are served with various accompaniments, such as sliced onions, boiled potatoes, and sour cream. Bread or crackers may also be served as a side.
One of the unique things about Heringsschmaus is that it can be customized to suit individual tastes. Some prefer their herring in a sweeter marinade, while others like it with a more acidic flavor. Sides like pickles or sauerkraut can be added to provide additional texture and flavor.
Types of Herring
In Austria, several types of pickled herring are used to create different recipes that are popular around the beginning of Lent.  These dishes are prepared at home to celebrate with family and friends or served in restaurants as part of a Fish buffet and are available for purchase at local markets and stores. They are referred to as Lenten pickled herring salads or Heringsschmaus.
Soused herring: This is a type of pickled herring that is marinated in a mixture of vinegar, water, salt, and sometimes sugar and spices. Soused herring is typically served cold and can be enjoyed on its own or as part of a platter of other pickled fish.
Matjes herring: This type of pickled herring is made from young, immature herring caught during the spring herring season. Matjes herring is typically marinated in a mixture of vinegar, sugar, and spices and is known for its delicate, mild flavor.
Rollmops: This type of pickled herring has been filleted, deboned, and rolled into a spiral shape around a filling of onions and sometimes other ingredients such as pickles or carrots. The rollmops is then pickled in a solution of vinegar, water, salt, and sugar or other seasonings.
Bismarck herring: This type of pickled herring is made from larger, more mature herring that are caught later in the season. Bismarck herring is typically marinated in a mixture of vinegar, onions, and spices and is known for its stronger, more robust flavor.
These different types of Lenten pickled herring may be served on their own or used to create Heringsschmaus salads and served as part of a larger Lenten meal that may include other traditional dishes such as potatoes, bread, and vegetables.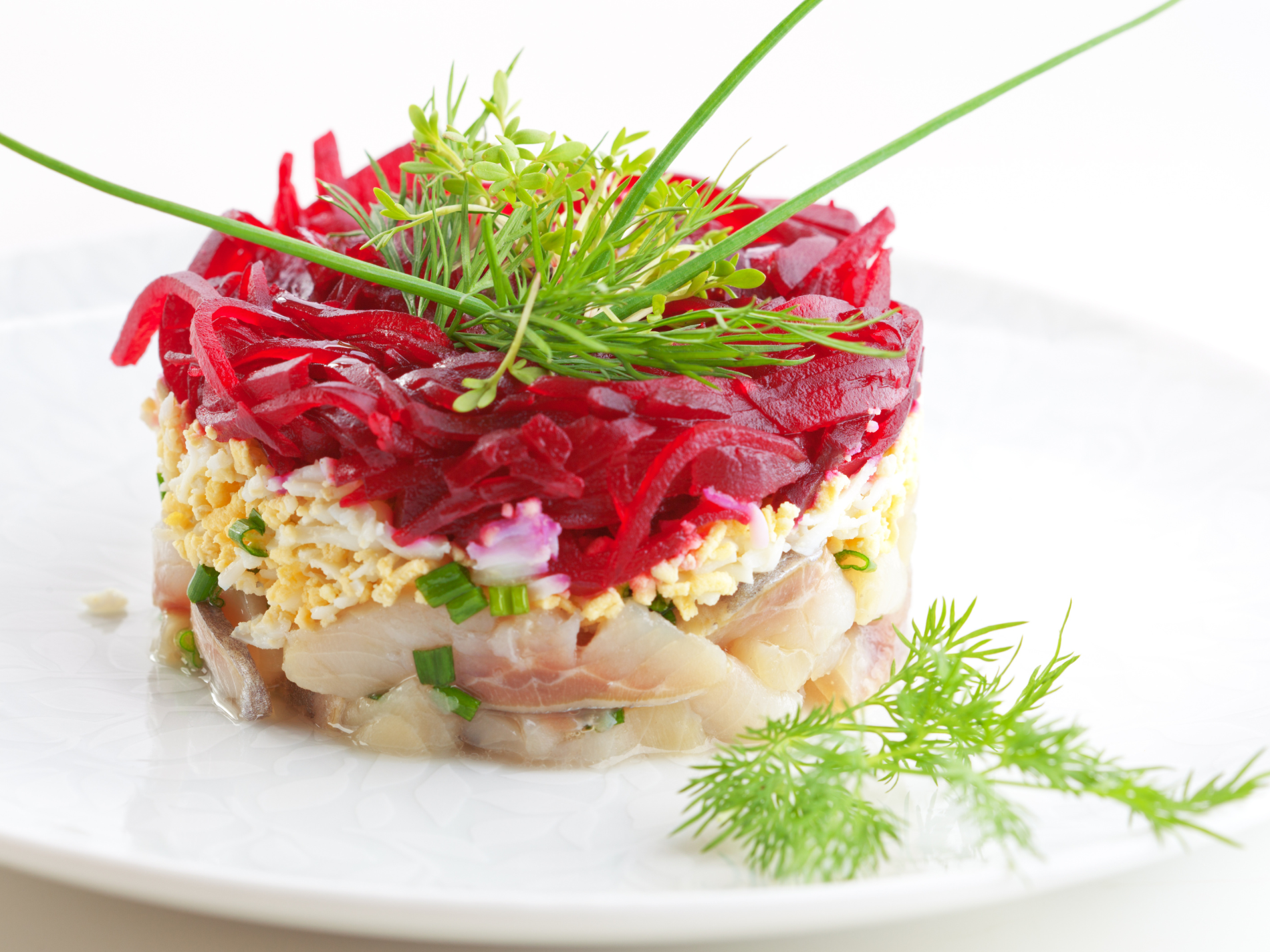 Heringsschmaus in Austrian Culture
Pickled herring, once a dish reserved for the poor, evolved into a luxurious & traditional celebration!
Heringsschmaus is a widespread tradition in Austria, and an especially beloved meal in certain regions. In some areas, gathering with family and friends to enjoy Heringsschmaus on Ash Wednesday is customary, while in others, local taverns or restaurants may serve the meal.
In some places, Heringsschmaus is celebrated with festivals or other events. For example, in the town of Voecklabruck, Upper Austria, there is an annual Heringsschmaus festival that includes live music, dancing, and plenty of herring.
Best-Pickled Herring salad (Heringsschmaus) on and Around Ash Wednesday. Here The Top 7 Restaurants in Vienna
If you are looking for something a little more down-to-earth and, above all, less expensive, head to the legendary Schutzhaus Zukunft in the allotment garden association on the Schmelz. They offer an all-you-can-eat style Heringsschmaus buffet including Lenten pickled herring salad on Ash Wednesday.
Where: 15th district

When:  February 22, 2023 from 05.30 p.m. to 08.30 p.m.
Price: 35.- euros per person
Amon's eating establishment in Vienna's 3rd district offers a lavish buffet with regional delicacies, including Lenten pickled herring salad, other fish and  local dishes, on Ash Wednesday. The door opens at 6 p.m., and the buffet is at 6.30 p.m.
Where: 3rd district

When:  February 22, 2023
Price: 59.- euros per person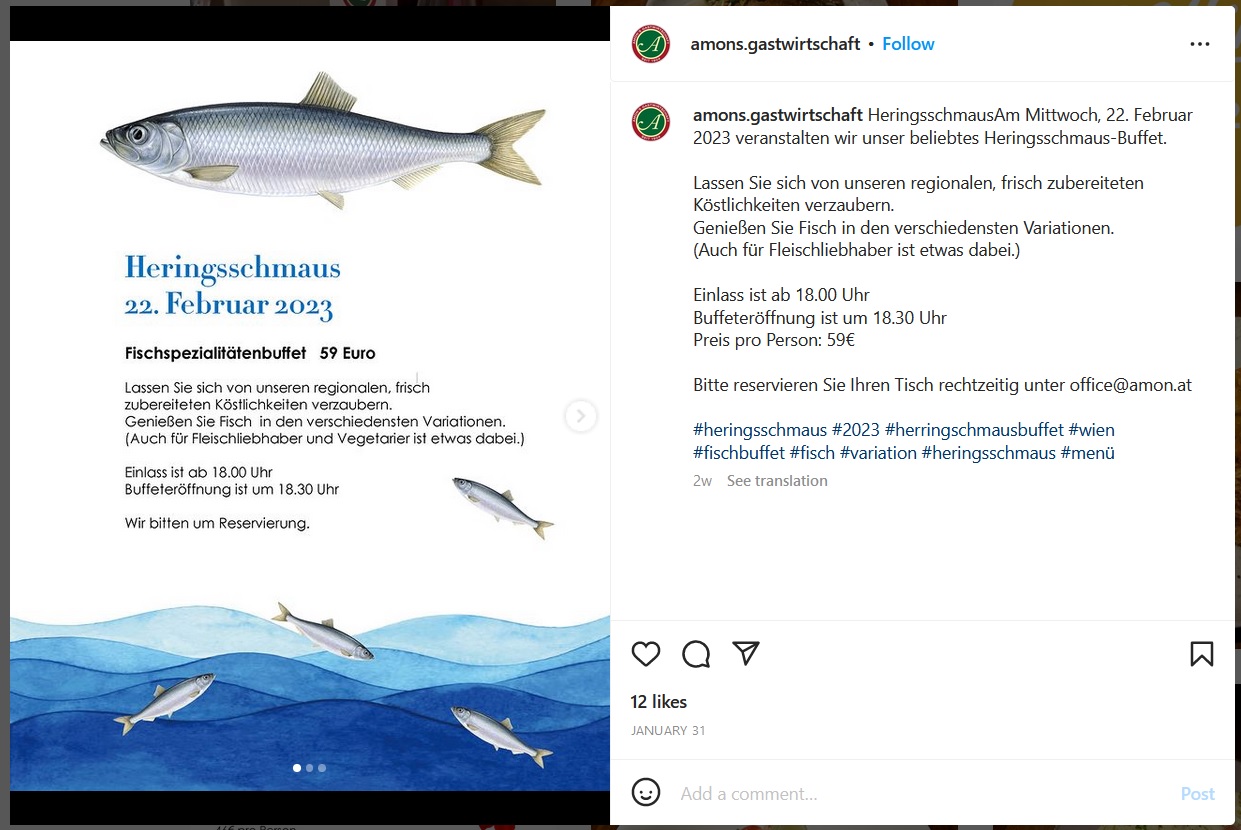 Plachutta Hietzing is a high-end restaurant that specializes in Viennese cuisine. Heringsschmaus is offered in the form of different Lenten pickled herring salads which you can pick from a serving cart at your table. The restaurant located in Hietzing  has a beautiful interior that combines modern and traditional design elements. Plachutta's main venue in Hietzing and the restaurant in Nussdorf will be serving herring and other seafood from the buffet cart from 16-22 February this year. Herring specialties are also available for takeaway.
Where: 13th & 9th districts

When: February 16 to February 22, 2023
Price: not available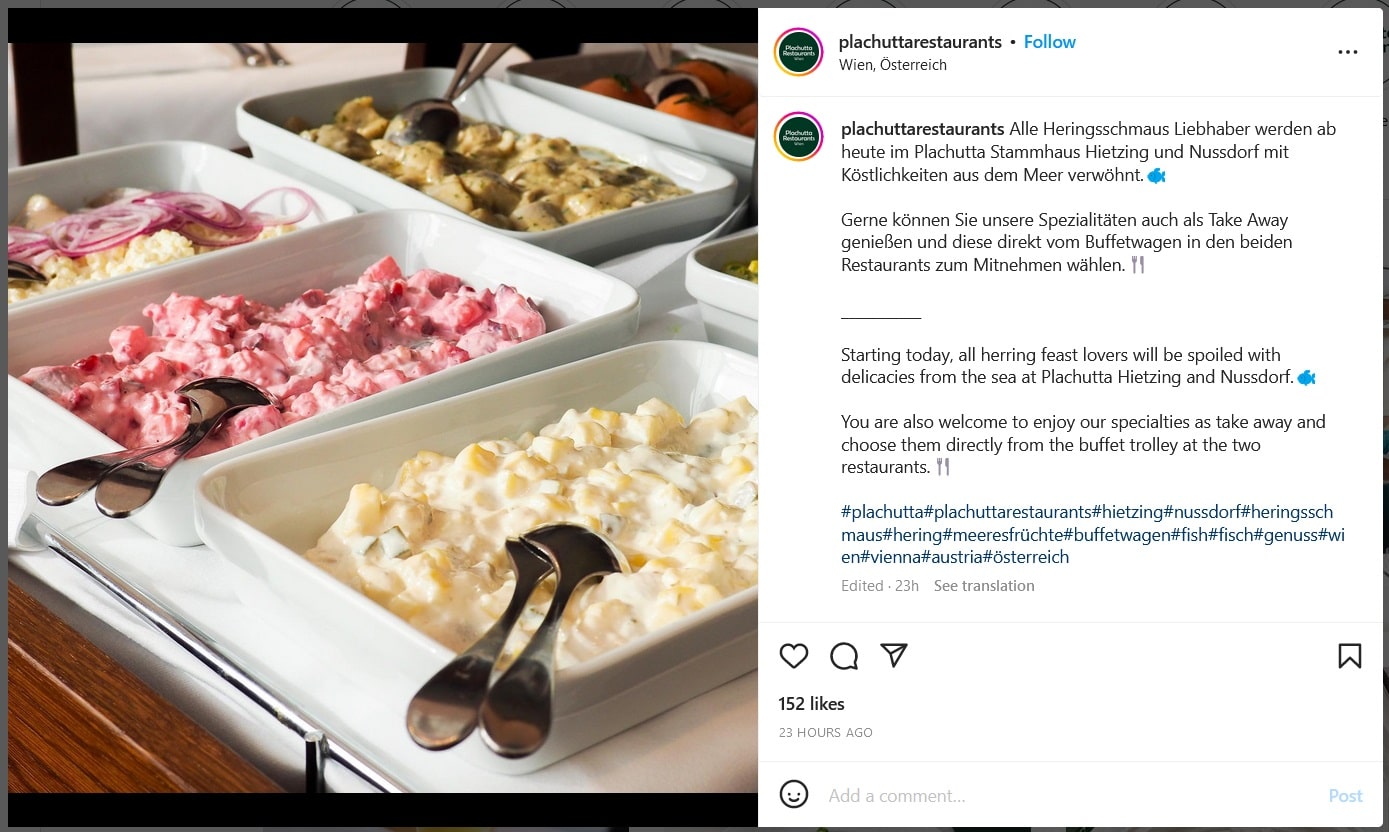 The well-loved café and restaurant's slogan reads "Your second living room in 1080 Vienna," and it is indeed well deserved., Café Hummel serves the popular Viennese Heringsschmaus with Lenten pickled herring salads by Candlelight. You can enjoy your fish feast of herring salad, matjes herring, shrimp cocktail, smoked salmon, quail egg, caviar, and other delicious fish dishes á la carte by the light of flickering candles.
Where: 8th district

When: February 13 -22, 2023
Price: not available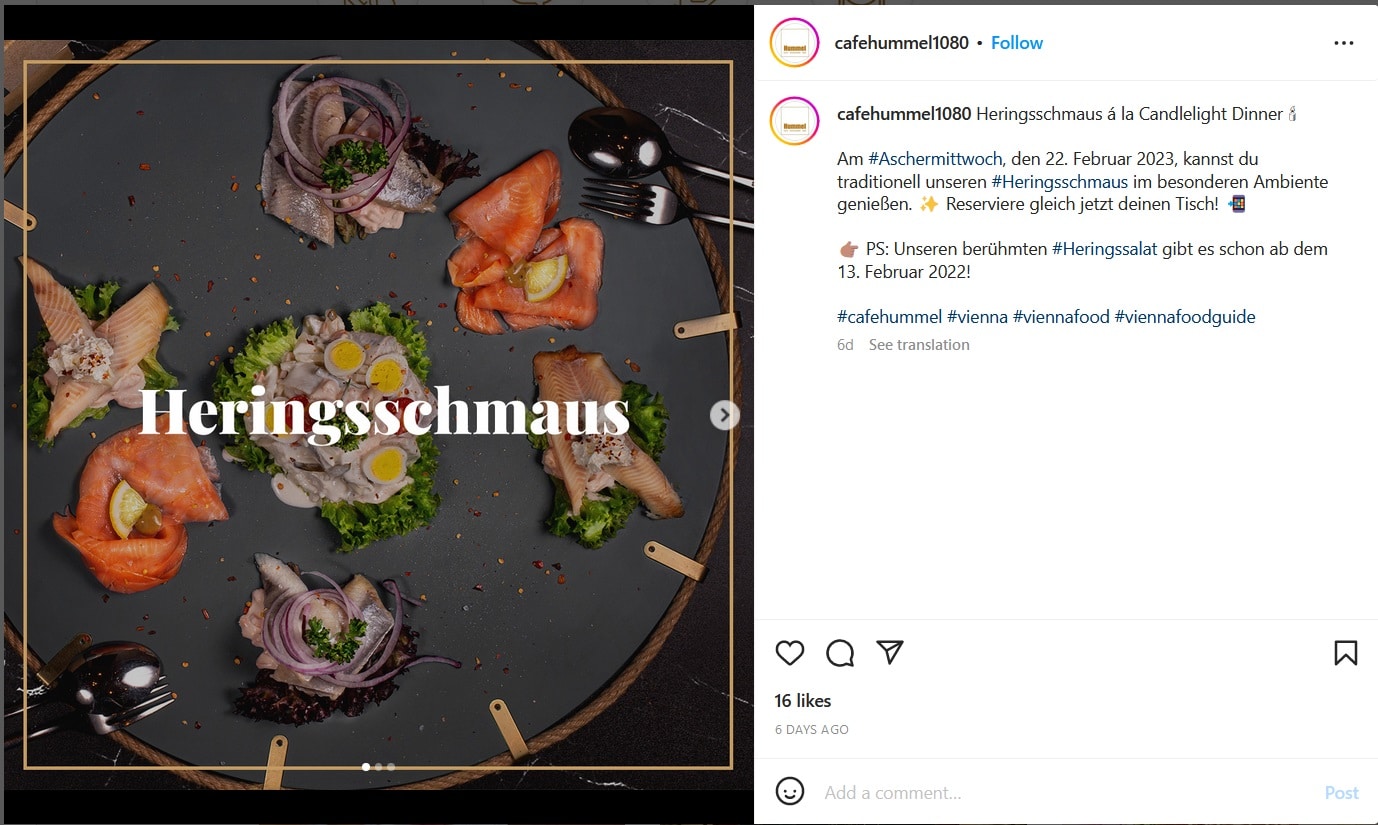 Pichlmaiers Zum Herkner, has a reputation for serving an exquisite Heringsschmaus. And rightly so, as it has a long standing reputation which spans more than 40 years.  The herring used in the dish is said to be of the highest quality, and the marinade is made with a secret blend of spices and seasonings that give the fish a unique and unforgettable flavor. A sumptuous six-course meal awaits you on Shrove Monday and Ash Wednesday, featuring Unagi eel and pea, Monkfish soup with long red peppers, kohlrabi, and bitter salad marinated in a crayfish sauce.
Where: 17th district

When: February 20 & 22, 2023
Price: 74.50 euros per person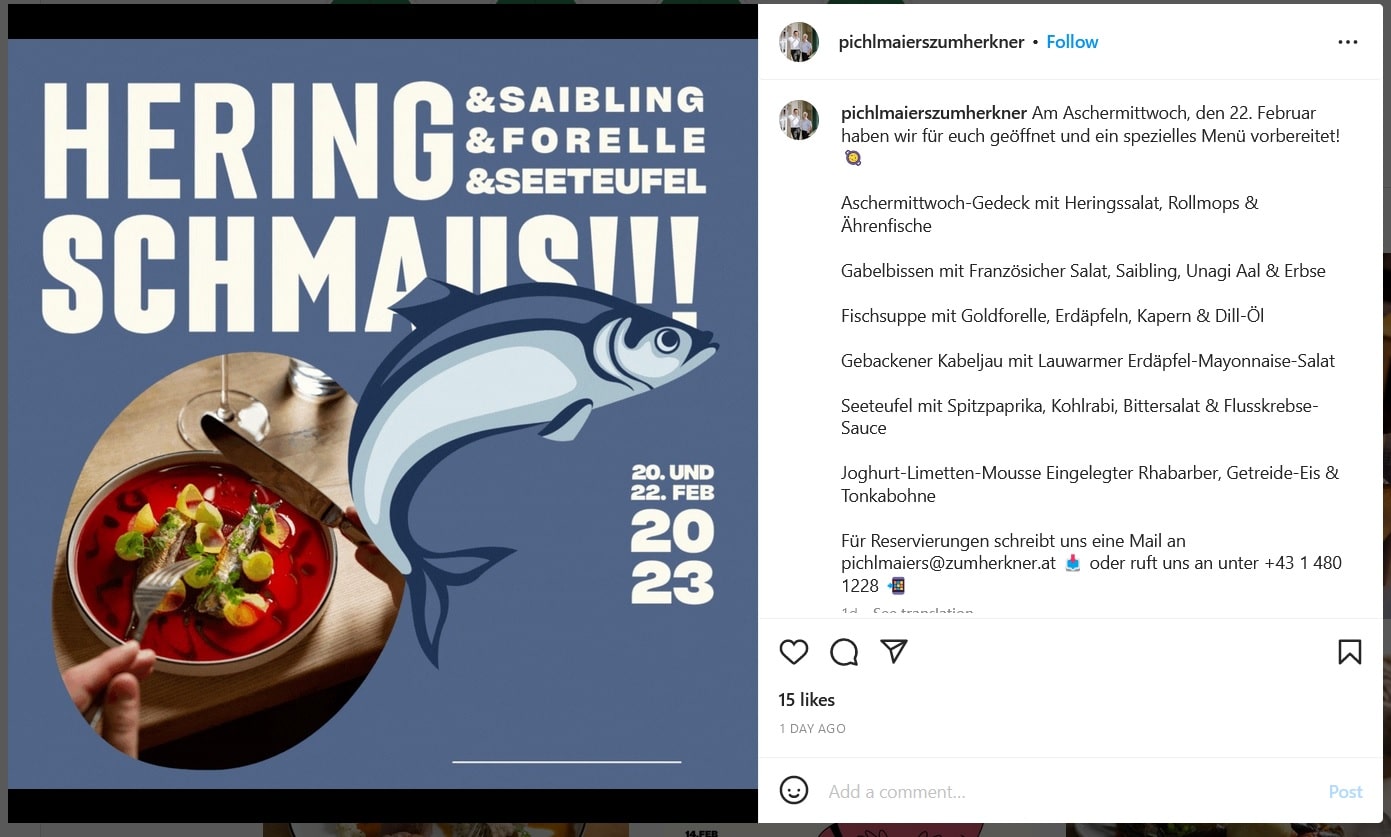 The restaurant is located in a picturesque setting on the banks of the Alte Donau, offering diners beautiful views of the water and the surrounding landscape. In addition to Heringsschmaus buffet with Lenten pickled herring salad, Landtmanns Das Bootshaus offers a wide range of other seafood dishes, including grilled fish, seafood risotto, and seafood platters.
Where: 22nd district

When: February 22, 2023, from 6:30 p.m. onward
Price: 75.- euros per person.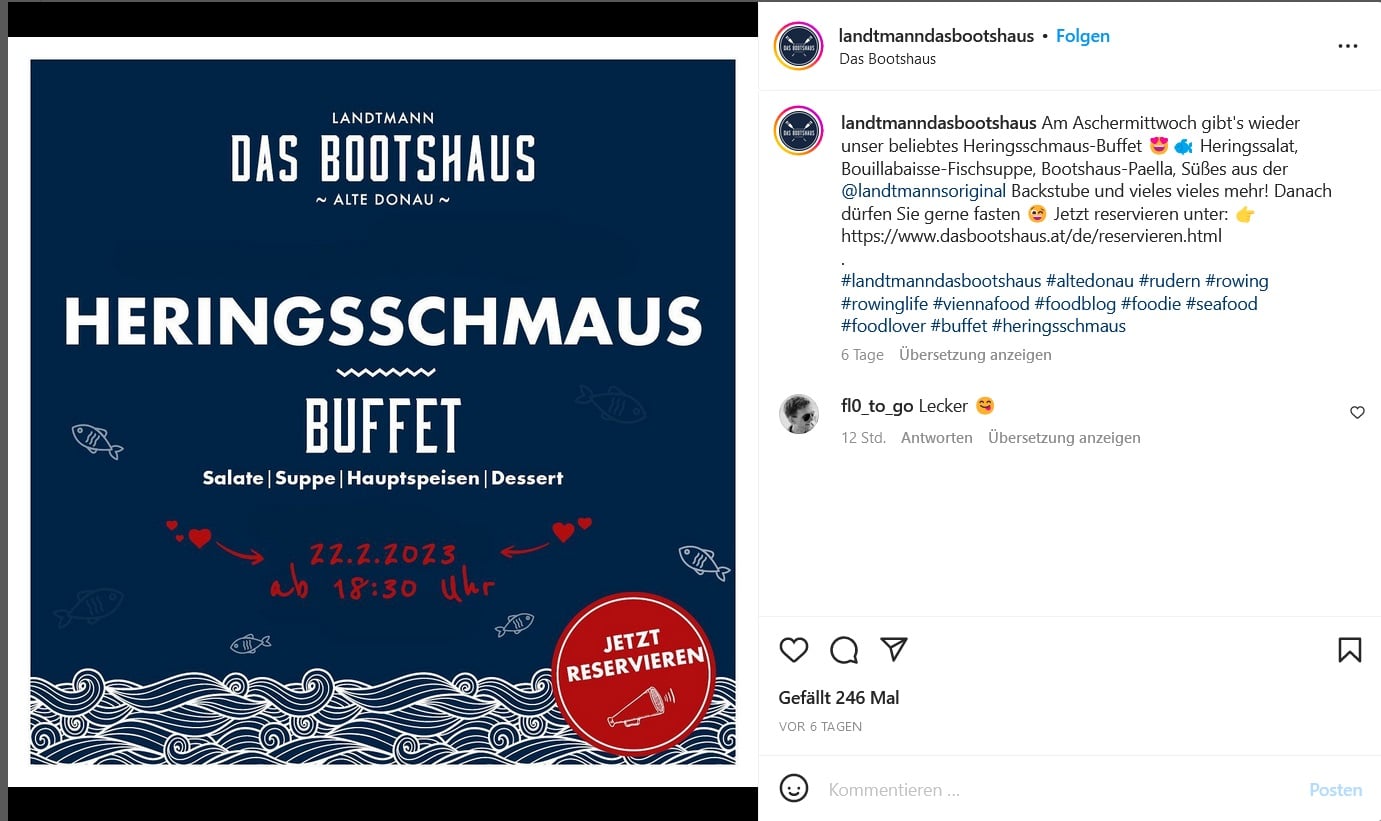 If you're seeking a special place to celebrate Ash Wednesday in style, reserve a table at Handwerk in the 7th district. They have been serving an unparalleled Heringsschmaus with different Lenten pickled herring salads in Vienna since 1902. Start by strolling through the organic Styrian fish market in the inner courtyard. It's sure to make your mouth water. Before heading to your table, you can quench your thirst and work up an appetite at the oyster and champagne bar in the courtyard. Once inside, a bountiful fish buffet awaits, overflowing with maritime specialties ranging from herring salad to premium fish prepared in a salt crust or on the grill.
Where: 7th district

When: February 22, 2023, from 6:00 p.m. onward
Price: 95.- euros per person.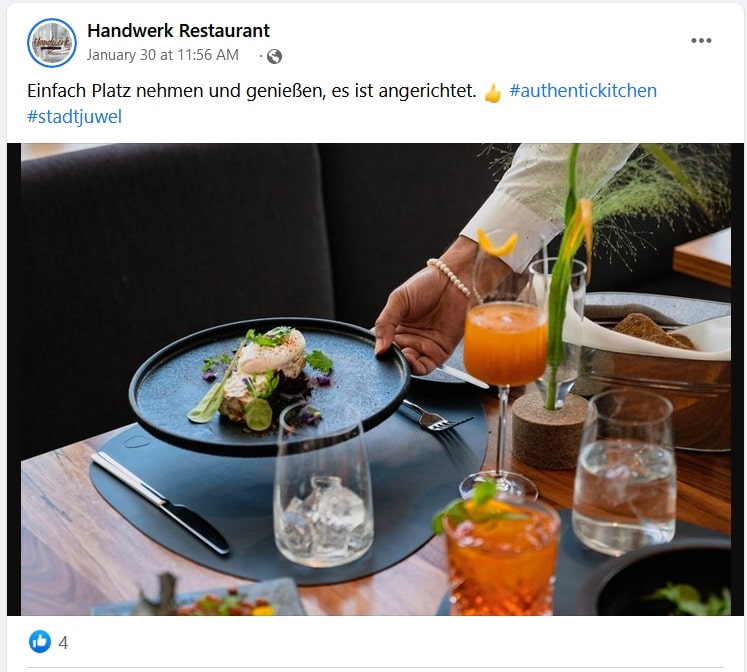 Where to Buy Pickled Herring Salad for Your Heringsschmaus at Home
(Or The Ingredients to Make Your Own – Recipe Below)
Naschmarkt
Vienna's largest outdoor market is known for its diverse selection of food and drink. You are certain to find everything you need to serve a lavish Heringsschmaus. In addition to Lenten pickled herring salad, you will find a variety of smoked fish and caviars for sale at the the market's seafood vendors. We have listed our favorites here:
At Fischviertler, customers can choose from a variety of seafood that is displayed on ice beds, including salmon, tuna, cod, shrimp, mussels, and more. The staff at Fischviertler are knowledgeable about seafood and can provide advice on selecting the best products for customers' needs, as well as recommendations for cooking and preparation.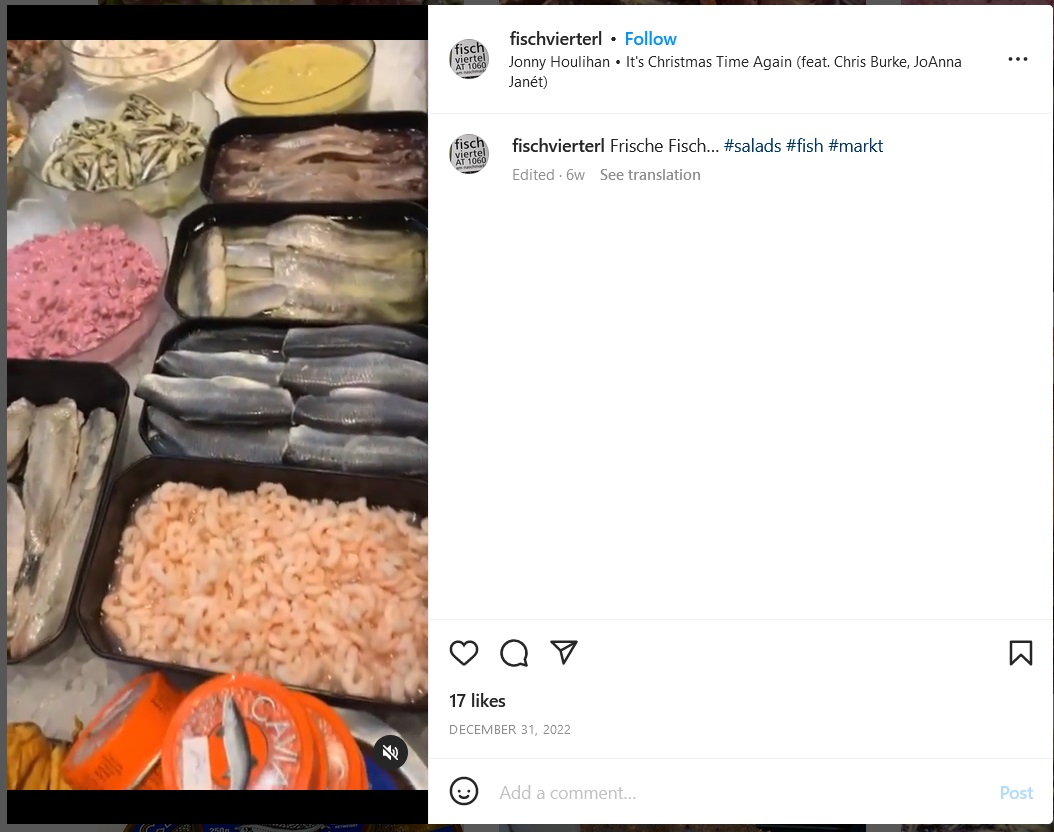 In addition to fresh seafood, Umarfisch also offers a variety of prepared seafood dishes, including fish sandwiches, seafood salads, and smoked fish plates. Customers can purchase their seafood to take home and prepare themselves, or they can enjoy a meal at the small seating area located next to the vendor stand.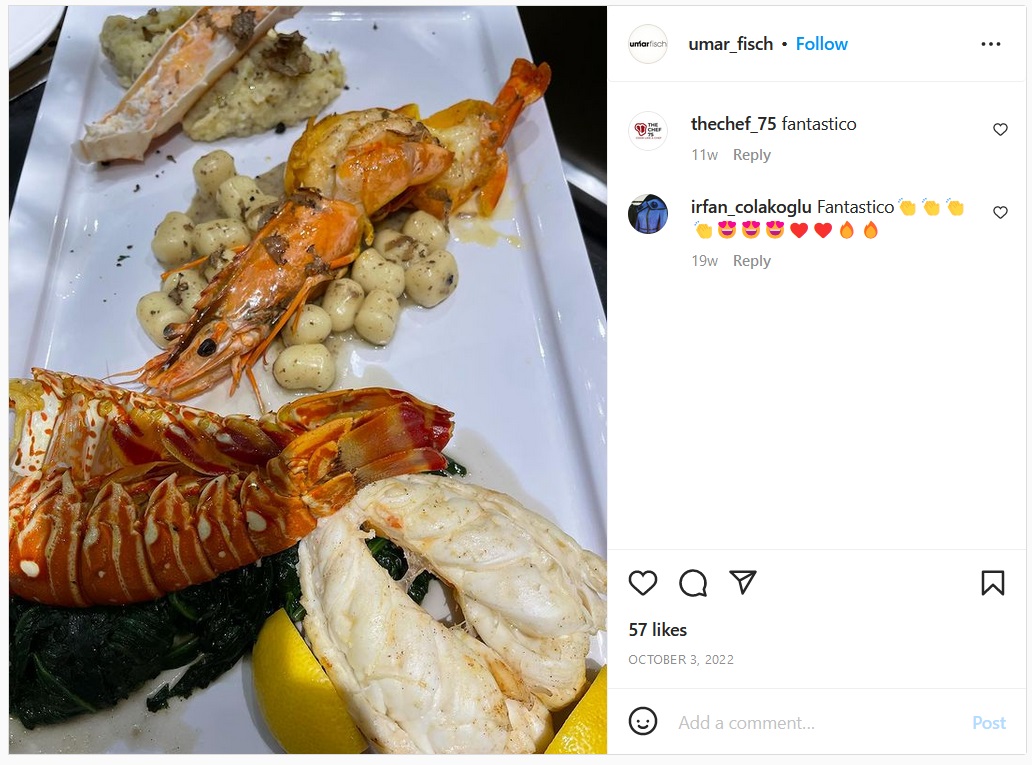 Fisch Gruber is known for their high-quality seafood products, excellent customer service, and focus on sustainability. They prioritize working with suppliers who use sustainable fishing methods and environmentally friendly practices, and they also encourage their customers to make environmentally conscious choices when it comes to seafood consumption.
Eishken Estate is a wholesale seafood vendor located at the wholesale market referred to as the "Grossmarkt" in Inzendorf in Vienna's 23rd district. They offer a wide range of high-quality and very fresh seafood including Lenten pickled herring salad. They also run a small shop at the Karmelitermarkt in the 2nd district called Lieblingsfisch.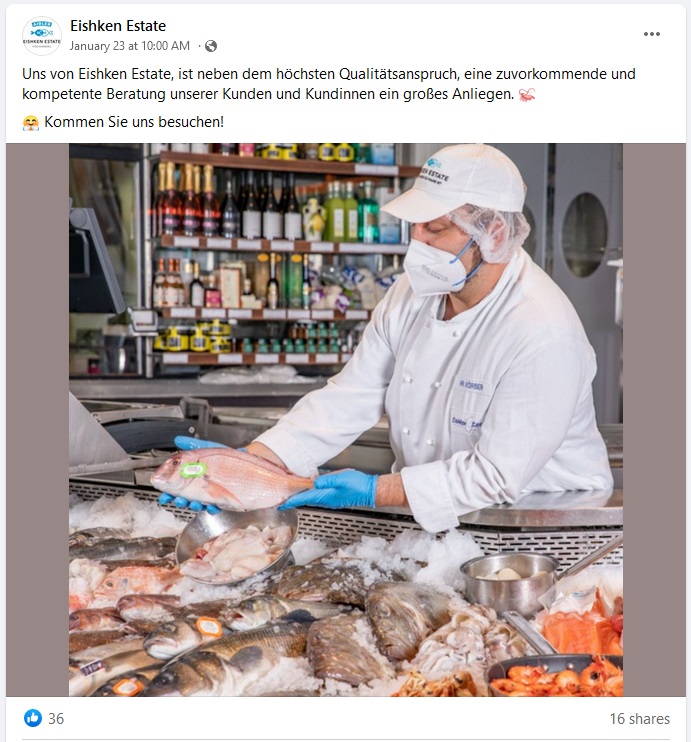 Shopping at Julius Meinel on Graben in the so-called Golden Quarter is an exquisite and unique experience. During the end of the Carnival Season and the beginning of Lent, for ten days starting from February 16 to 25, 2023, you can choose from a wide selection and variety of delicacies from the sea. The store offers classic homemade Lenten pickled herring salads, salmon specialties, herring matjes, as well as deviled eggs along with many other specialties. The quality is exceptional. Prices are on the higher side.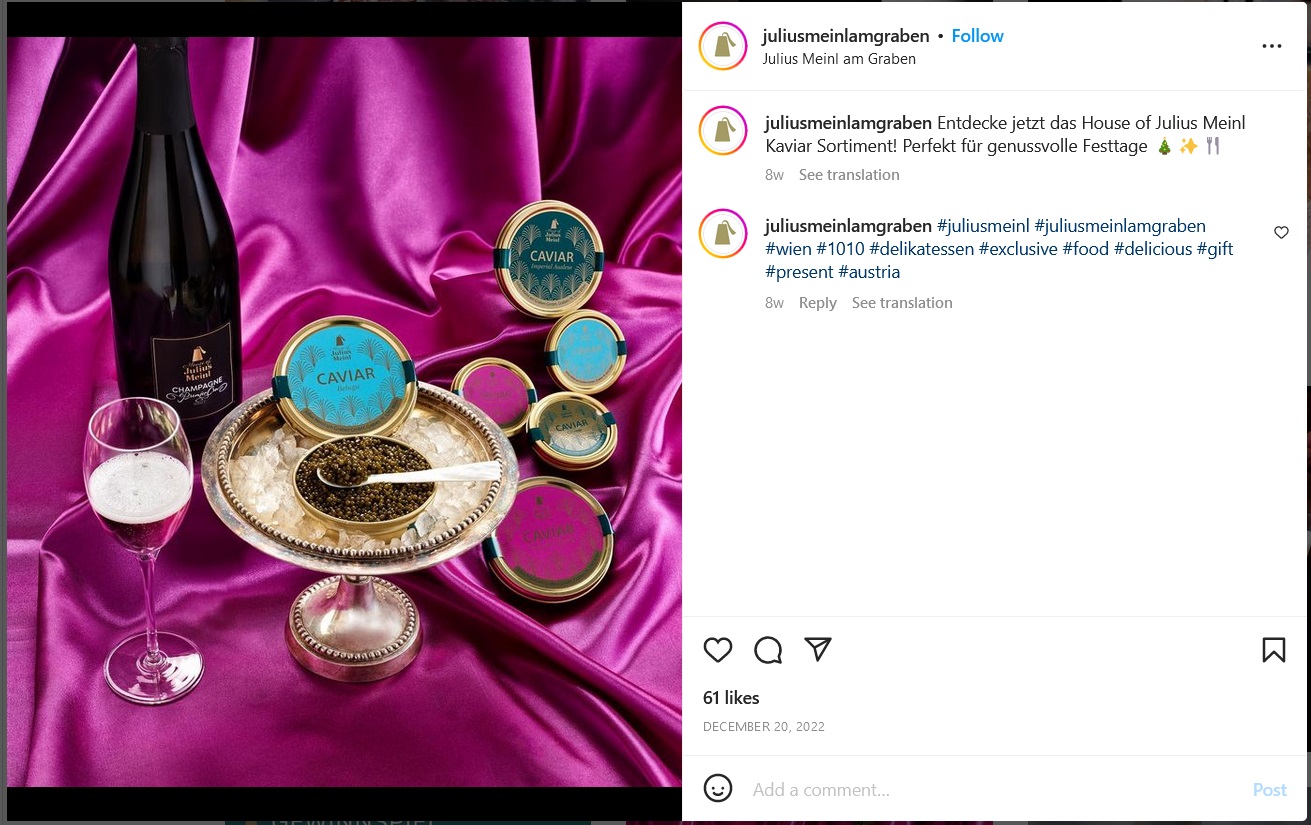 This is an Austrian-owned supermarket chain that offers a variety of food products, including fresh seafood. Around the beginning of Lent, they sell various specialties, including Lenten pickled herring in different sauces, marinated shrimp, and deviled eggs. We often buy here and can vouch for freshness, quality, and price. My personal favorite is the classic Viennese Heringsschmaus. You can order party platters in advance or buy directly at the fish counter. Prices are reasonable, with specialties ranging from €1.55 – €6.99 per 100 grams.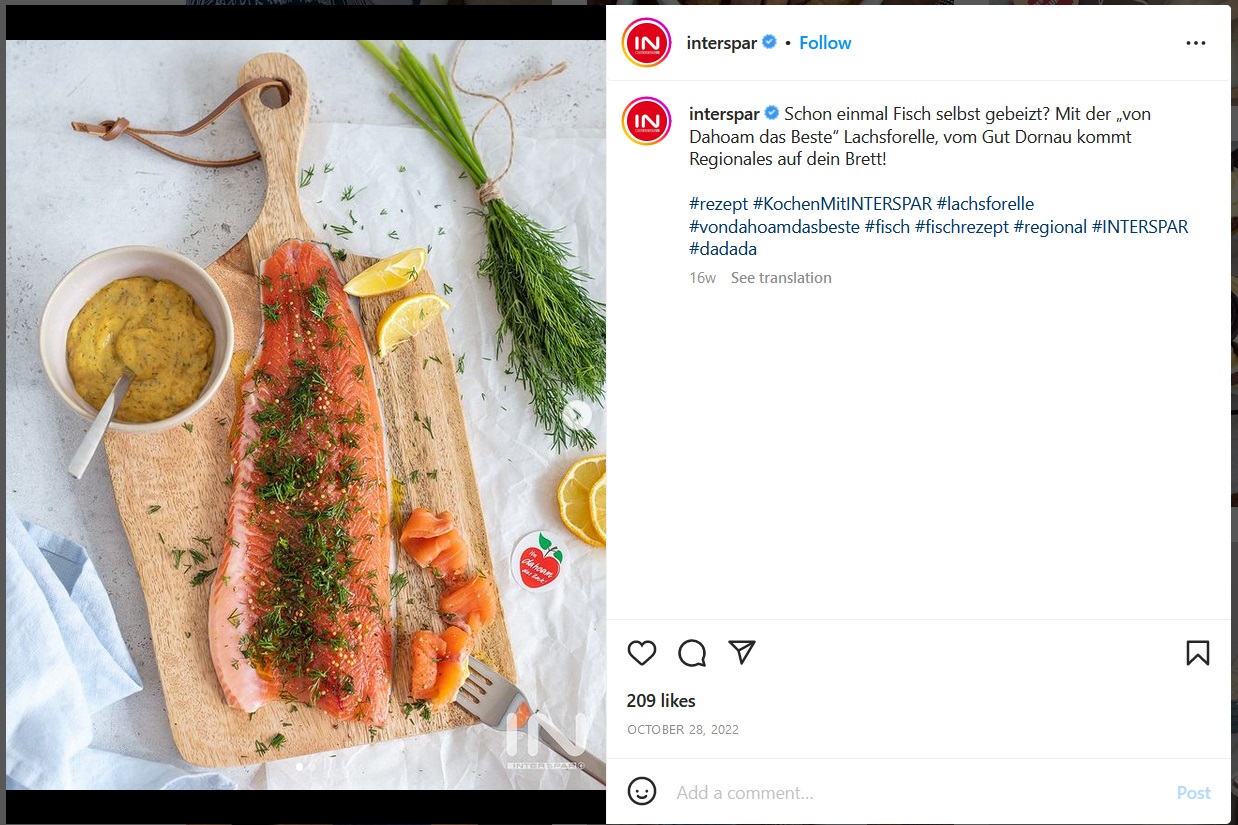 This is another supermarket chain in Austria that offers a range of food products, including fresh seafood Lenten pickled herring salads. You can find a variety of Heringsschmaus at one of their stores in Vienna. You will find the widest offering at their flagship store Billa Corso located on the Hoher Markt in the 1st district.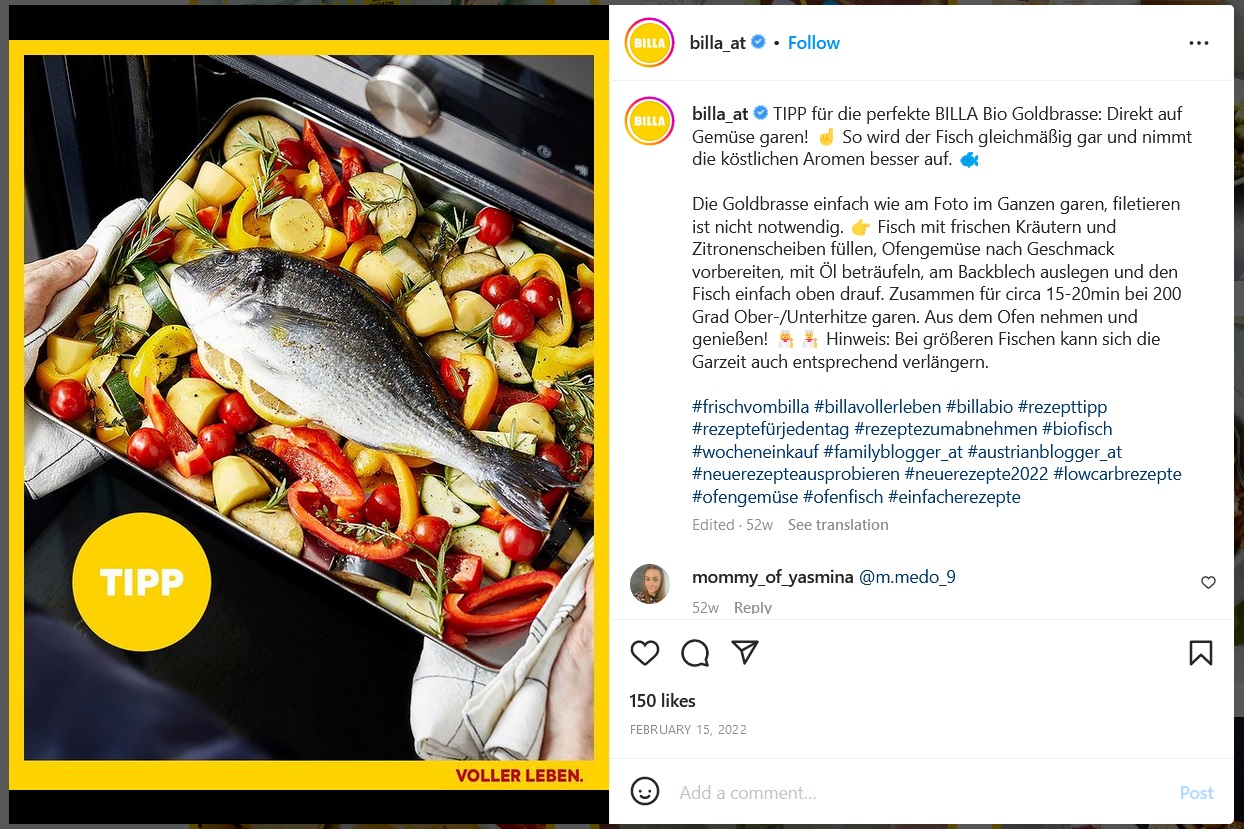 Pickled Herring Recipe to Prepare Your Own Heringsschmaus at Home
Viennese Herring Salad (
Lenten Pickled Herring Salad

)

I found this recipe for typical Viennese Lenten pickled herring salad in the book Die Gute Küche written by Plachutta and Wagner. I have made it a few times. It is always a big hit, and there are never any leftovers. It is easy and fast to make. Most ingredients are readily available at any of the supermarkets mentioned above.

Serves 4
Ingredients
200g herring, marinated, filleted
100 g apples, peeled, cored
100 g potatoes, cooked, peeled
80 g pickled cucumbers
60 g beans, white, cooked
120 g mayonnaise (see below)
60 g onions or onions from herring marinade
3 tbsp sour cream
5 capers, chopped
Anchovy paste
Salt
Pepper, white
Tarragon mustard
Herring marinade to dilute
Strained herring milter if available,
Garnishes like egg slices, herring pieces, curly parsley
Directions
 Cut the apples, potatoes, and gherkins into 8 mm cubes.
Cut the herrings into larger pieces of approximately the same size.
Mix all ingredients with the mayonnaise and sour cream to bind them and, if necessary, to correct the consistency with herring marinade.
Add the milter (if using), capers, anchovy paste, white beans, chopped onion, and spices.
Garnish herring salad with slices of egg, pieces of herring, and curly parsley.
Enjoy
Takeaway
While the tradition of eating Lenten pickled herring during the Lenten period is common across several European countries, including Germany, Austria's unique take on this dish sets it apart.
In Vienna, Herring Schmaus is more than just a dish; it is a cultural experience that is deeply ingrained in the city's history and cuisine. Vienna's cuisine is characterized by its fusion of diverse cultural influences, including Hungarian, Czech, and Italian. Herring Schmaus is a prime example of this culinary fusion, as it blends pickled herring, a staple of northern European cuisine, with the traditional herbs, spices, and flavors of Austrian cuisine.
In addition, the method of pickling herring in Vienna is unique and contributes to the dish's distinct flavor. The pickling solution used in Herring Schmaus often includes a combination of vinegar, sugar, and spices, such as bay leaves, cloves, and mustard seeds. This combination of flavors creates a tangy and slightly sweet taste that pairs perfectly with the fish's rich, oily flavor.
Finally, the ambiance of the local restaurants and taverns in Vienna also adds to the experience of eating Herring Schmaus. Many of these establishments have been around for decades, offering a cozy and rustic atmosphere uniquely Viennese. This ambiance, coupled with the delicious food, creates a memorable dining experience that cannot be replicated elsewhere.
In summary, while the tradition of eating Lenten pickled herring during the Lenten period is common across Europe, Vienna's unique take on the dish, which blends pickling methods, herbs, and spices with rich local cuisine, and the cozy atmosphere of local establishments make it a unique and special experience that sets it apart from other countries such as Germany.
No matter how you choose to enjoy your Heringsschmaus, be that at home with friends or in one of Vienna's restaurants. we hope you enjoy the Lenten tradition for which Vienna is so well known.
We hope you enjoy discovering the many flavors of this delicious Viennese tradition!