Vienna has a well-connected public transport system.
The public transport system is inexpensive, frequent, fast, clean, efficient, and rarely overcrowded.
Wiener Linien is the municipal transport authority
Their tickets and passes cover all city train and subway services and nearly all tram and bus services
Buy network passes for reasonable, peace-of-mind travel
The Vienna City Card public transport pass is designed for visitors and includes various tourism discounts
Traveling on Vienna's underground or "U-Bahn" system will take you to the majority of the city's main points of interest.
With 30 different lines, Vienna's tram system is amongst the largest in the world. It's quick, easy, and comfortable for short journeys.
While the metro and tram systems are often the easiest and quickest way to get around Vienna during the day, buses are the only alternative to taxis at nighttime.
You can download a PDF file showing a map of Vienna's Underground and city Trains by clicking on the map below.
Timetable and frequency
U-Bahn
The Vienna Underground (U-Bahn) operates daily, approximately between 5 am and 12:30 am.
Trains usually depart around every 5 minutes during normal schedules. At busier times, they are more frequent, running every 2 to 4 minutes; while after 8:30 pm they run less frequently, around every 7 to 8 minutes.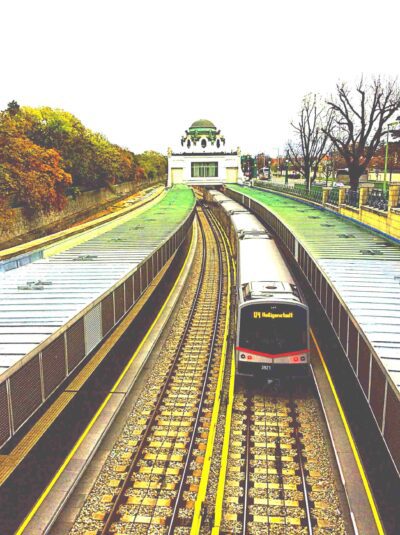 Tram
Vienna's tram network (Strassenbahn) is one of the largest in the world. 30 different lines cover much of the city center. The tramway has been in operation since 1865 and was originally pulled by horses, today the iconic red-and-white trams are powered by electricity.
The tramway operating times are similar to that of the metro. While times do depend on each line, most start running from 5 am and stop at midnight. It's always best to check in advance, as certain lines only run until 9 pm or change their times of operation on weekends and public holidays.
Vienna Ring Tram
The Vienna Ring Tram is a tourist attraction that circles the Ringstrasse without requiring you to change lines.  An audio guide, in eight different languages, including English, describes the landmarks passed during the 25-minute ride.
The Ring Tram runs daily, every 30 minutes between 10 am and 6 pm (until 7 pm in July and August).
A ticket for a single ride on the Vienna Ring Tram is €9 for adults (children under 15 years old cost €4; children under 3 years old who do not require a seat are free). Vienna Pass holders have one free ride on the Ring Tram.
Night buses
If you're planning a night out in Vienna, the night bus could be the best way to travel home. They operate between 12:30 am and 5 am and run every 30 minutes. There are 26 night-bus lines. The route numbers begin with the letter 'N'.
Ticket Prices
All tickets mentioned below are conveniently valid for journeys on the metro, bus, and tram networks.
Single ticket price
Tickets must be validated at the metro (U-Bahn) station or when you get on the bus or tram.
Vienna travel passes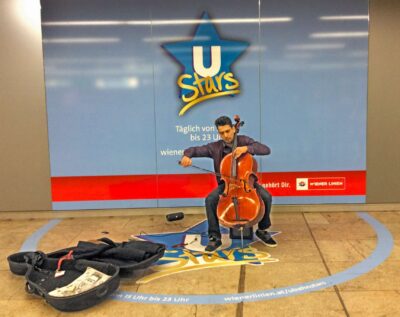 After validated, travel passes allow unlimited use of the public transport networks for the duration of their validity:
24-hour pass: €8
48-hour pass: €14.10
72-hour pass: €17.10
Weekly pass: €16.20 (valid for a specific calendar week from Monday-Sunday – this is not a 7-day ticket).
Other travel cards
The Vienna City Card includes unlimited travel for one adult and one child under 15 years old, plus discounts and benefits at museums, shops, restaurants, and other attractions around the city. It is valid for the specified duration from the time it is first used.
24 hours: €17
48 hours: €25
72 hours: €29
Where to buy tickets?
You can buy public transport tickets at the offices and machines at the underground and train stations. The machines offer many tickets and travel pass options and accept cards and cash.
Many tobacconists (Tabak Trafik) also sell tickets – look for the blue "WL" logo outside the shops.
Single tickets can also be bought on trams and buses but cost more (€2.60 instead of €2.40).